Commercial training
YOUR NEW WORKPLACE: THE WORLD MARKET.
You will keep the economy moving, maintain contact with the whole world and master the very latest technologies. This is no normal office job – it's your everyday life as an apprentice in the commercial sector at KERN-LIEBERS. We give you the opportunity to work independently from an early stage and support your professional and personal development from the outset.
02.
IT Management Assistant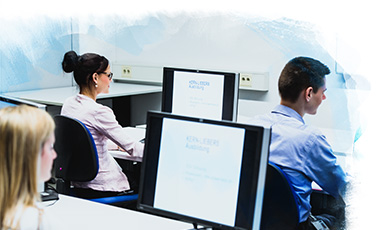 Training content
As IT Management Assistant you will work on projects regarding the planning, adaption and introduction of systems of information and telecommunication technology.Your main tasks will be the analyzation of work processes with regards to the use of IT-systems, the implementation in a software solution, as well as bug-fixing and matters of data protection within the company.During your training period you will learn technical and commercial, as well as IT-related content relevant for the efficient implementation of modern IT-systems. In step with actual practice, KERN-LIEBERS will systematically prepare you for the different aspects of the IT-world.
Further qualification
Studies (higher education entrance qualification)
Business Administration
Software Developer
IT-Systems Administrator
State-certified Business Data Processing Specialist
Our open training programs are always up to date and can be found in our Applicant Portal. You can apply to our open positions directly online. In case the desired program is not available in our portal, please do not hesitate to contact the corresponding contact person.