Toolmaking (internal)
Our toolmaking department develops and builds both simple stamping tools and highly complex fine blanking, follow-on composite and stamping and bending tools. CAD and software tools such as collision control software support our design engineers in the creation of tools and the parts handling and integrated control systems that go with them.
We design and build tools for normal stamping and fine blanking, follow-on composite tools, transfer tools and insert tools. We use computer-aided transformation simulations to model borderline cases and design the tool stages.
All designs are created with 3D CAD software.
All toolmaking locations within the group work closely together in our global toolmaking network, so their know-how and experience in the various technologies is available at each location.
We use common CAD software to design our tools, and globally coordinated processing technology with the associated programming systems to build them, which means that we are also able to take on projects from the KERN-LIEBERS group in the toolmaking network.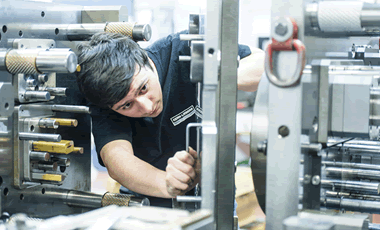 Our sophisticated tool systems allow us to create models and prototypes close to the series production process in the areas of fine blanking, normal stamping and transformation technology (stamping and drawing).
Using computer-based simulation software, our specialists can implement many of the steps in the stamping process without having to create expensive prototypes – ideally during the development phase of the component design in collaboration with our customers.
Industry applications



Building services engineering


Mechanical engineering and equipment manufacturing