Sub-assemblies and laser welded parts
Sub-assemblies and laser welded parts as a substitution for cost-intensive turned and milled parts.
Laser-welded assemblies and parts, particularly for numerous applications in the automotive industry. Laser welding can be used to bond different materials to each other accurately and without distortion, providing an alternative to costly turned and milled parts.
Materials available:
Width: Up to 150 mm
Thickness: Up to 3 mm
Stamping force: Up to 80 tons
Made from flat-rolled materials such as:

DC grades
Carbon steel grades
Stainless steel
Aluminum alloys
Pre-coated material

Laser welding for the most challenging quality standards
Use of state-of-the-art technology for individual final inspection
Hasps for door locks and hood latches in passenger cars and vans. Our technologies enable complete production of the individual components made of wire, flat material and plastics. The subsequent assembly of the components is completed by a reliable, automatic process.
Our capabilities:
Wire connected to the base plate by cold joining methods or laser welding
Additional requirements such as thread forms can be integrated into the process
Use of pre-hardened materials or heat treatment of the individual components
Complex surface treatment of the individual components and/or the finished part
Application of coating protection
Bourdon tubes for piezo systems, for example for diesel and gasoline injectors or medical applications. This process uses laser welding to bond different materials.
Our capabilities:
Precision stamping of the spring element
Laser welding for the most challenging quality standards
Use of state-of-the-art technology for individual final inspection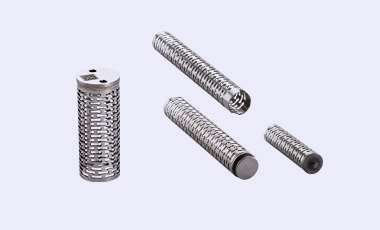 Contact
Product group: Sub-assemblies and laser welded parts
| | |
| --- | --- |
| Phone: | +49 (0) 8232 . 5002 -871 |
| E-mail: | |
Industry applications